Today I would like to introduce you to the delicate and inspiring work of Edmund de Waal, an artist who is an inexhaustible source of beauty, purity and truth.

I could spend hours listening to Edmund de Waal (Nottingham, 1964), who I consider a great artist, writer and great talker (of which we are sadly short today).
Edmund de Waal is first and foremost a potter. He has exhibited in some of the world's major museums and galleries such as the British Museum in London, Ivorypress in Madrid, the Gagosian Gallery and the Max Hetzler Gallery in Berlin.
He works mainly with porcelain, a material he fell in love with and to which he has dedicated years of research and work. His extremely simple pieces seem to seek to be observed for hours and they have the power to captivate, to make you forget time for a while.
De Waal creates installations that resemble landscapes of shadows, reflections and gestures. His creations are reminiscent of showcases full of objects and collections. Actually what rests in these huge vitrines are white porcelain vessels reflected in plates covered with gold paper, heavy pieces of marble, translucent pieces of alabaster or rusted steel that show us the passage of time.
His ceramics, always imperfect, show the gestures and the hours spent at the potter's wheel. De Waal hides them, shows them, reflects them, piles them up, breaks them. He plays with your imagination and with our desire to know, with our desire to touch and to find hidden objects with our eyes.
For Edmund de Waal, using the vitrine to create his installations is like framing a part of the world. It is a moment of pause that protects and displays bodies of immobile objects while everything continues to revolve around them.
Collecting is turning seing into having,
and having into knowing.

Without being a collector by profession, de Waal collects, gathers, exhibits and shows us that collecting is much more than accumulating objects; it is a living thing. For him, collecting is understanding objects as a source of wisdom. It is there where knowledge ceases to be something individual to be communicated and dispersed.
This is the source of his famous and award-winning book 'The Hare with Amber Eyes', which chronicles the life of a collection of Netsuke — a miniature group of figures carved in wood, metal or ivory that a Japanese family specialised in making and which belonged to his family, the Ephrussis.
His second book 'White Gold' is a journey through the history of porcelain, from 8th century in China to the present day, where his personal obsession with white porcelain is revealed as the world's best kept secret.
His latest work 'Library of exile' (2020) at the British Museum is a space to sit, to read and to be present. It is the creation of a library of over 2,000 books written by authors from all over the world who have been forced into exile from their countries. A subject that is so close to our hearts today. The exhibition tells a story about exile, migration and the loss of culture and knowledge and raises questions about what is preserved, what is preserved and what is lost.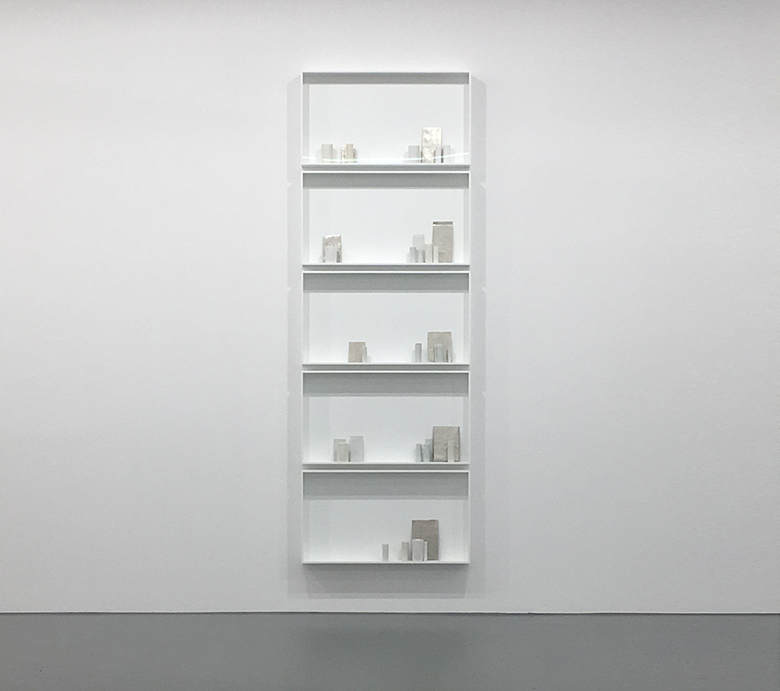 Edmund de Waal is truly an artist who, without a doubt, has a lot to tell. I can't help but recommend seeing at least once one of his exhibitions, which are sure not to leave you indifferent. But don't rush. Keep your watch in your pocket and let yourself be carried away by the stories of the objects in the vitrines, their shadows, their textures and, specially, the white porcelains.
Thank you for reading me,
Paula.
PS: if you are interested in this author, I leave you with a video that I thought was incredible so you can take a look at it. And if you still want to know more, I recommend an exquisite interview from Mono Kultur magazine: W is for White. I hope you enjoy it!