Sometimes we just see the aesthetics in design. But actually design is so much more than just graphic outputs. These 5 statistics show the importance of design in business. 
Design is not only how something looks, but also how it works. Nowadays more and more companies are incorporating design to offer a better experience to their customers.
Actually, businesses that have incorporated design in their performance have now better results than those who haven't.
Here I highlight 5 key statistics on the importance of design in businesses.
1. Design can increase recognition and revenue
If your brand has a consistent design across all communication platforms it can increase your business revenue and recognition, according to Lucidpress report.
The consistent use of similar colours, font types, imagery and overall look and feel is one of the most important things for a brand to mantain. The visual consistency avoids confusing your audience, facilitates brand recognition amongst viewers and attracts future customers. It's just as important as consistency is in marketing messaging.
2. Design-driven companies have outperformed the S&P Index by 228% over 10 years*
According to DMI (Design Management Institute), companies with a strong desgin have outperform companies with a weak design by 228% on the S&P Index (Stock Market Index) over 10 years.
Businesses who don't incorporate design in their development because they don't see the ROI are falling behind. Design is a key value differenciator that also increases businesses in the long term.
3. Design helps your business stand out
Every business has competition. Even if you don't think so,  YES: your business also has competitors. And one of the most important things to make your business visible among others is with a strong positioning and a stong branding.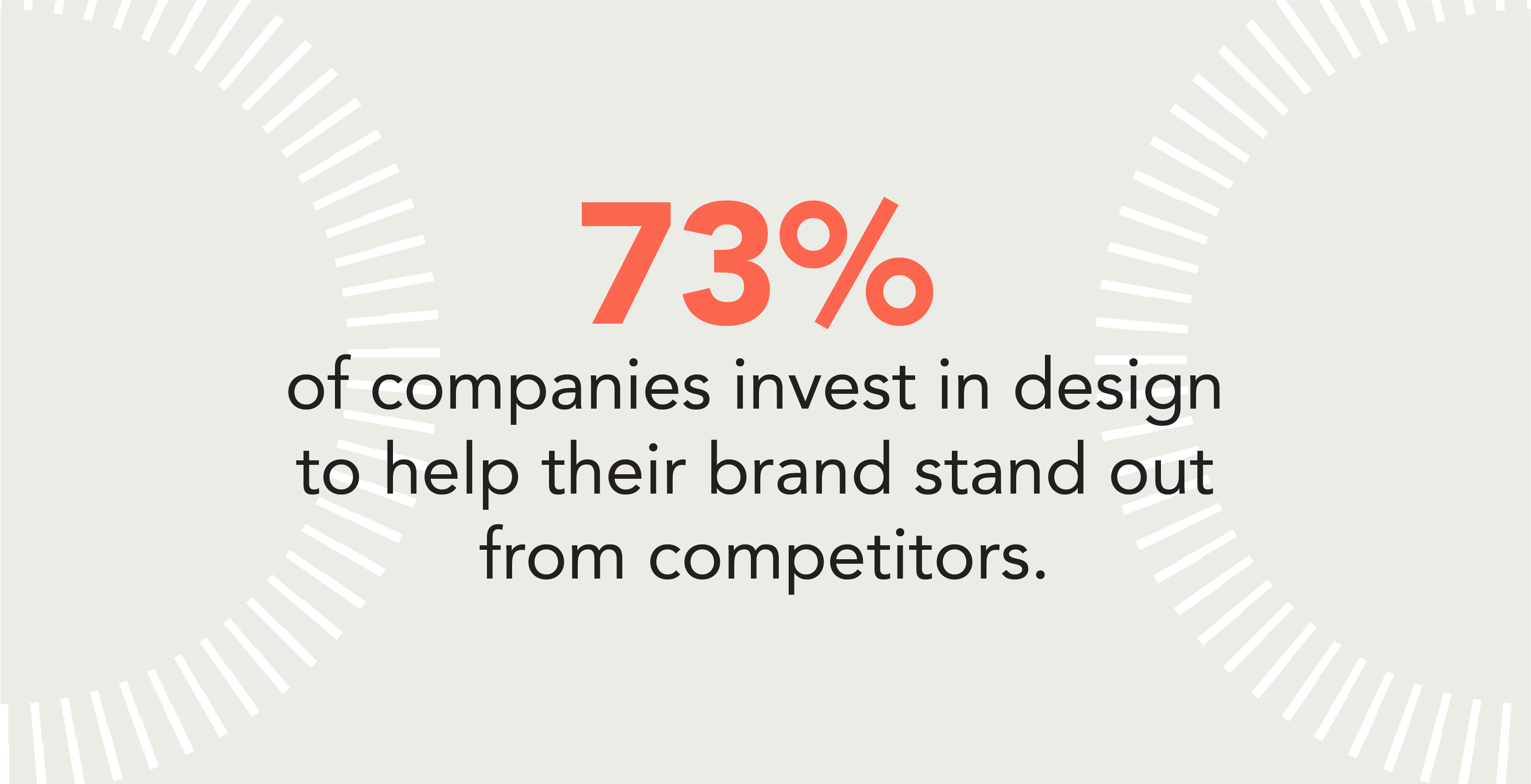 According to Statista: 'Many companies believe that there is often little to differenciate between several types of products in the 21st century, and therefore branding is the one of a few remaining forms of product differenciation.'
Study also shows that 73% of companies invest in design to help their brand stand out from competitors. When you are competing with others you need to give your products or services a unique touch. 
4. Design influences customer behaviour
This stat shows how design can be a powerful tool when it comes to influence people's behavior. Think for example how do you choose a wine when you go to a wine shop. There are hundreds of different wines. You choose one because of the label. It is the label design what made you choose one wine instead of the others.
According to a study conducted by Paper and Packaging Board shows that 72% of consumers agree that packaging design influences their purchasing decision. Packaging is often the first interaction that shoppers have with a product. And with the non-familiar products, everything we can do is to trust the packaging design.
5. Design creates more loyal customers
It is no secret that good design helps your business to be more profitable. According to study conducted by Forrester Consulting for Adobe, 50% of companies report more loyal customers after becoming a design-led company.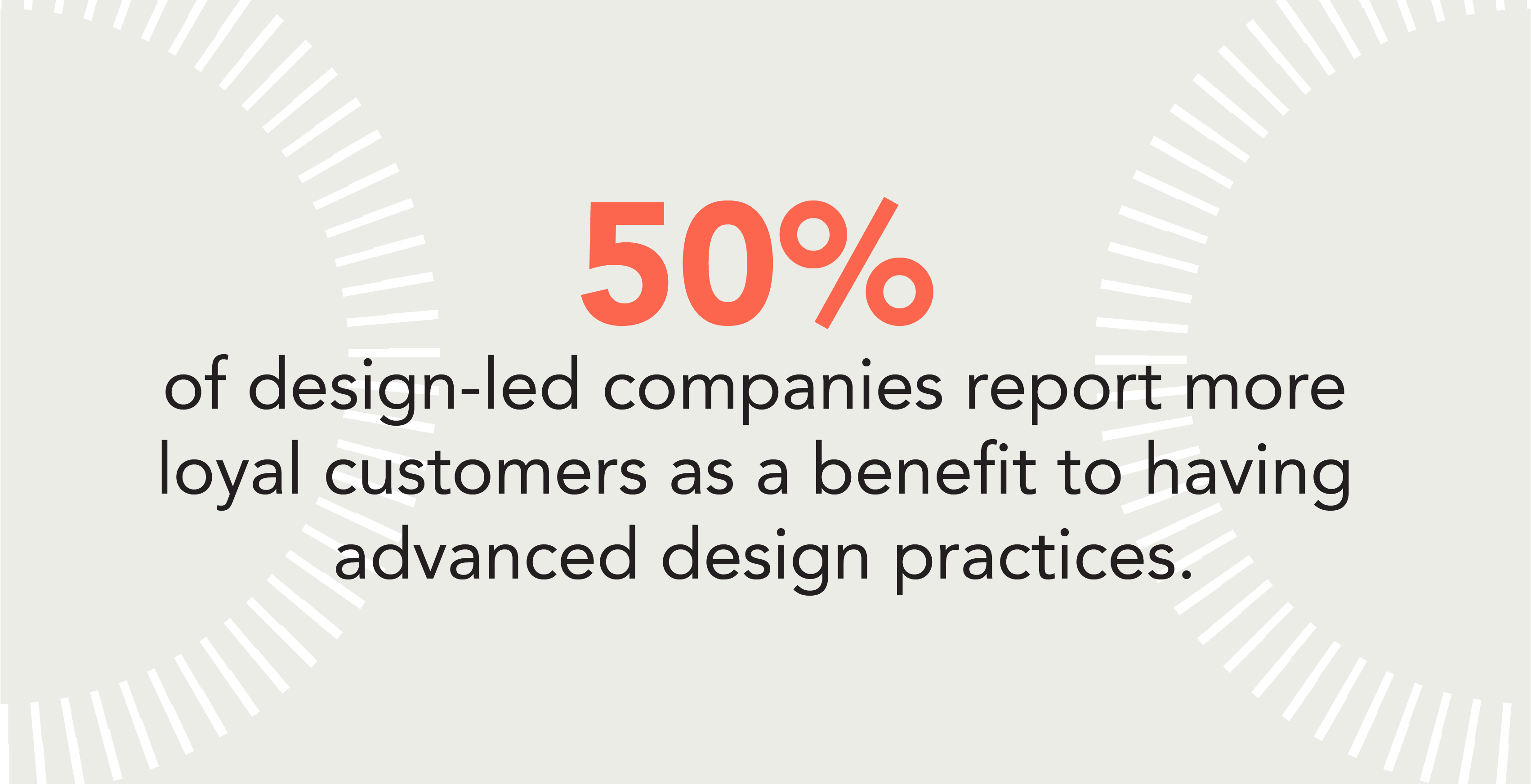 Design-led companies are those that put design at the very core of their brand. They weave design principles into everything they do, focusing on beautiful experiences that build lasting and meaningful relationships with customers.
But like everything in this life, this is not a one-day job, but a well-executed and consistent design work. Even though your business can be small today, design can help it to be big tomorrow.
If you want to know more about how design can help your business read the value of typography for your brand or subscribe to receive my latest posts about design and business.